Wendy has lived in the foothills of the Sierra Nevada in the Gold Rush-era town of Mariposa since 1971. Mariposa means "butterfly" in the Spanish language, and is often referred to as the "Gateway to Yosemite," being located only miles from Yosemite National Park. She and her husband Kevin live on the Round Tuit Ranch with their horses, dogs, and cats.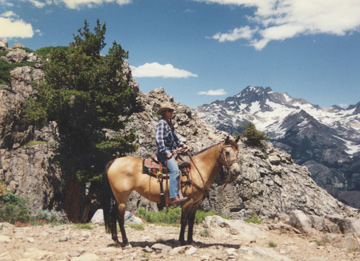 Wendy & Reno at Surprise Saddle, Ansel Adams Wilderness, in the Yosemite back country
Experience With Youth
She has gathered much experience working with young people, including working in schools at the elementary level for five years, putting on cowboy poetry writing workshops for students in the second through sixth grades, working with teachers and principals to organize an Annual Youth Cowboy Poetry Contest, and helping to present the contest winners performing their poems at the Cannonball Poetry Gathering.
Educational Background
Wendy has a B.A. in Fine Arts and Humanities obtained from San Diego State College, as well as a California Teaching Credential in elementary education.
Experienced Entertainer
Wendy Brown-Barry has entertained at these events:
The Mariposa County Pioneer Wagon Train

Spring Conference - San Joaquin Valley Regional Association of California

The Fresno Flats Historical Society

The Stevenson Ranch

The Carnegie Center for the Arts

Nacco Resorts - Campfire Gatherings
Event Organizer
Emceed and Organized the Cannonball Cowboy Poetry Gathering (7 yrs.)

Co-Founder of Mariposa Mountain Riders, served as first Trail Boss (4 yrs.)

Experienced in writing publicity articles and flyers for advertising

Established professional contacts with many well-known cowboy poets and musicians such as Pat Richardson, Waddie Mitchell and Mick Vernon

Benefactor- Mariposa Arts Council
***If you would like to contact Wendy with inquiries regarding performances, poetry workshops, event organizing, etc., please e-mail Wendy at: wendybrown@sti.net