Victorian Reflections by Hazel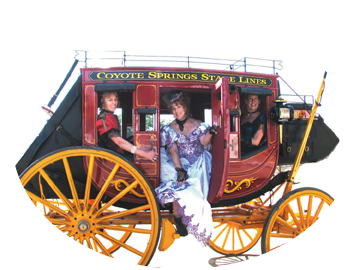 Thinking of hosting a Western-themed event featuring Cowboy Poetry? Victorian-style period costumes are available from Victorian Reflections by Hazel to enhance the event experience!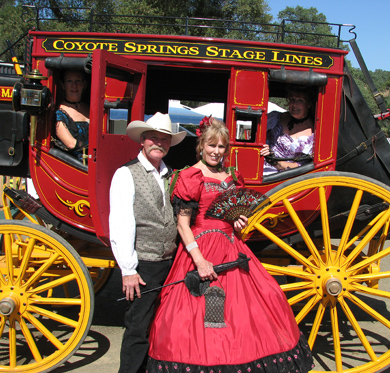 Wendy and her husband Kevin proudly displaying their finest Victorian and Western threads (courtesy Victorian Reflections by Hazel) on the Coyote Springs Stage Lines coach
***If you would like more info about Victorian Reflections by Hazel - Redesigning Vintage Formals into Victorian Gowns - please contact Hazel Zepeda at: zzranch@sti.net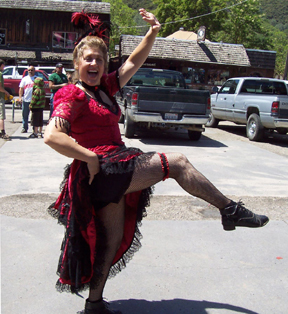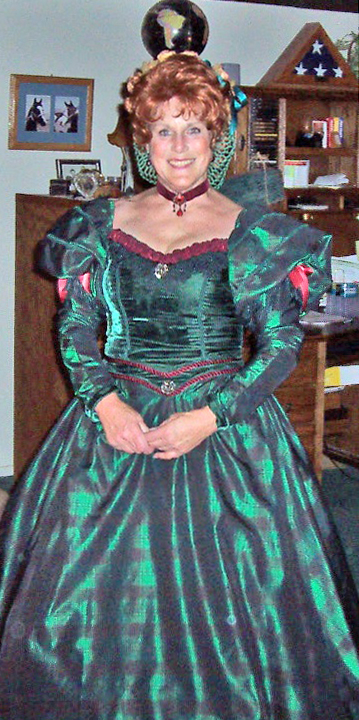 Cowboy Poet Friends
Mick Vernon

Cowboy Poet, Musician, Executive Director of the Monterey Cowboy Poetry & Music Festival

Pat Richardson

Cowboy Poet of the Year 2003
Waddie Mitchell
Buckaroo Poet, co-founder of the first Cowboy Poetry Gathering in Elko, Nevada

MARCH 29th- ANNUAL GOLD RUSH DINNER & DANCE
We also attended the Annual Gold Rush Dinner & Dance at the Mariposa County Fairgrounds last Saturday evening. We dressed in our vintage clothing (gowns by Victorian Reflections by Hazel), and a good time was had by all!

COWBOY POETRY WEEK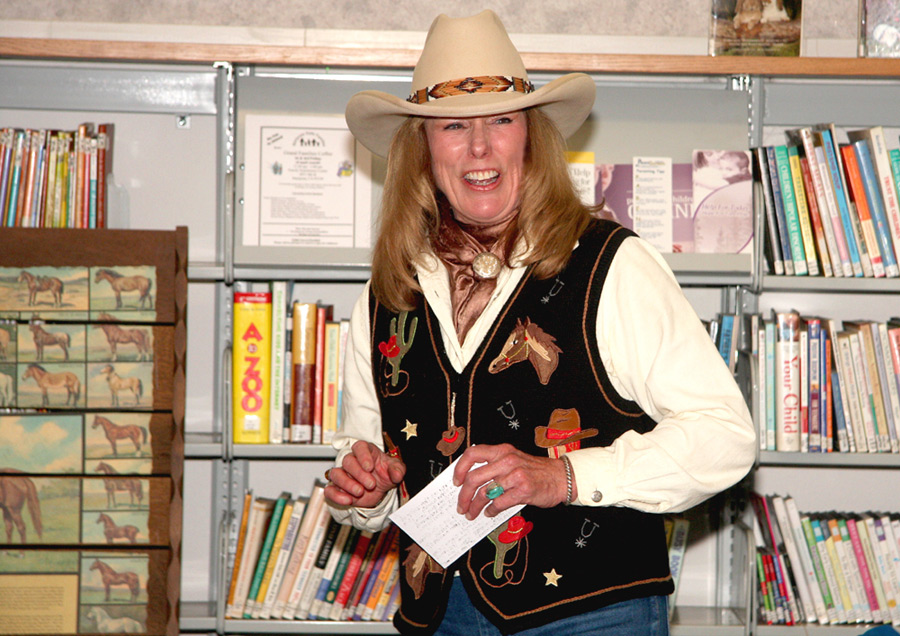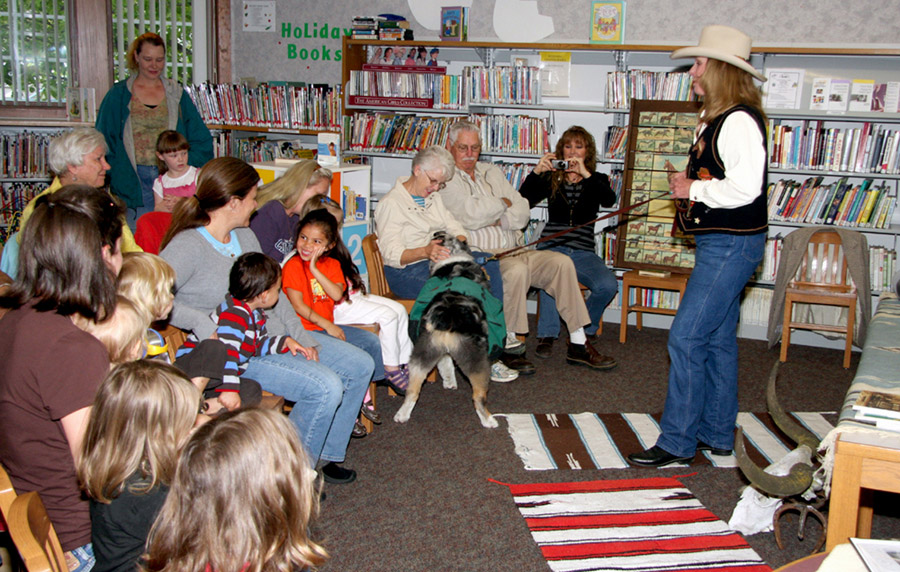 We had a good turnout at the Mariposa County Library for the Children's Story Time. People of all ages showed for the event, and everyone seemed to enjoy the poetry. The pre-school children were a joy and were especially well behaved. They loved Flash, and got to meet him as I recited his poem. Afterward, they were invited to take a button with his picture on it that they could pin on. My poetry partner Madison Seamans, DVM showed up to add variety to the show (see his link). It was a worthwhile effort, and
I hope to do something again next year!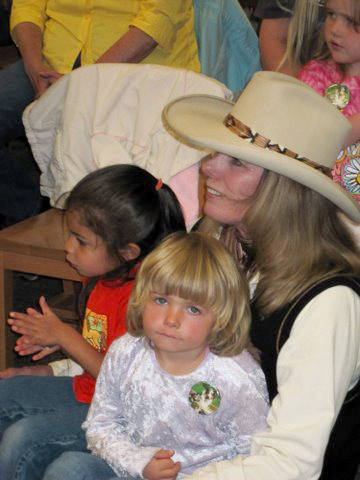 Wendy & Fans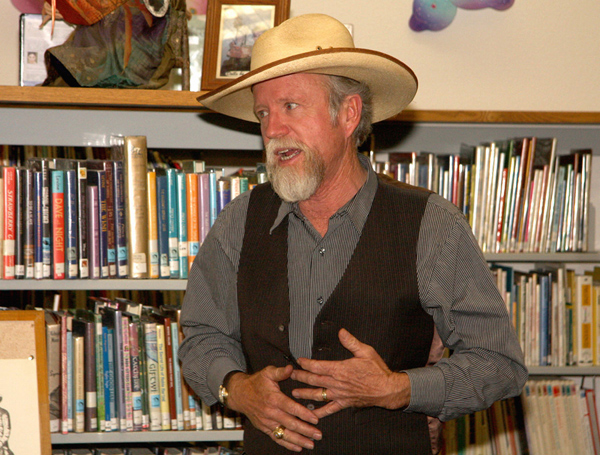 Madison Seamans

NEWS FLASH: Wendy Brown-Barry has been performing cowboy poetry since 1996. In celebration of Cowboy Poetry week, she will be reciting cowboy poetry during the Children's Story Time at the Mariposa County Library, on Wednesday, April 20, 2011 at 10:00 AM. All ages are welcome! Come join the celebration, hear some original and traditional cowboy poetry, and meet Flash, Wendy's Australian Shepherd.
Nine years ago, the website CowboyPoetry.com initiated Cowboy Poetry Week. In April 2003 the U.S. Senate passed a resolution, with unanimous approval, recognizing the Cowboy Poetry Week celebration. CowboyPoetry.com also sponsors the Bar D Ranch website. Their mission is to preserve and celebrate the arts and life of rural communities everywhere.
Cowboy Poetry is an oral tradition of the Old West that was born on the cattle drives of the 1800s. Sitting around their campfires, cowboys began a tradition of storytelling, poetry and song that has survived on ranches from Texas to Montana, and in recent years has entered the mainstream of literary genre. The themes are universal, with heavy emphasis on nature, history, folklore, family, friends, and work. Cowboy Poetry records the heartbeat of the real working West, in a tradition that spans three centuries. Ranchers, cowboys, and Western writers represent the voices of this vital- yet endangered- rural culture.

HAPPY NEW YEAR 2011
Howdy Everyone! We welcomed in the New Year at Don and Laurel Rumsey's Mother Lode Ranch. Once again they out did themselves with a festive party complete with decorations and great food. I entertained the folks with cowboy poetry in between the dancing and music, and a good time was had by all. Thank you Don and Laurel for your hospitality!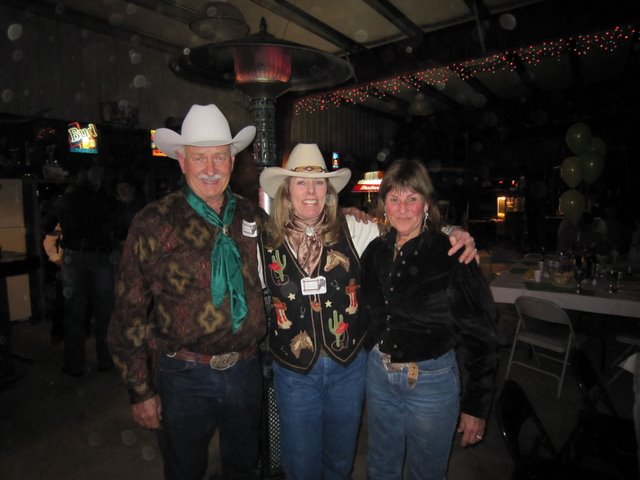 KENNEDY MEADOWS COWBOY POETRY & CHUCK WAGON ADVENTURE SEPT.11th-12th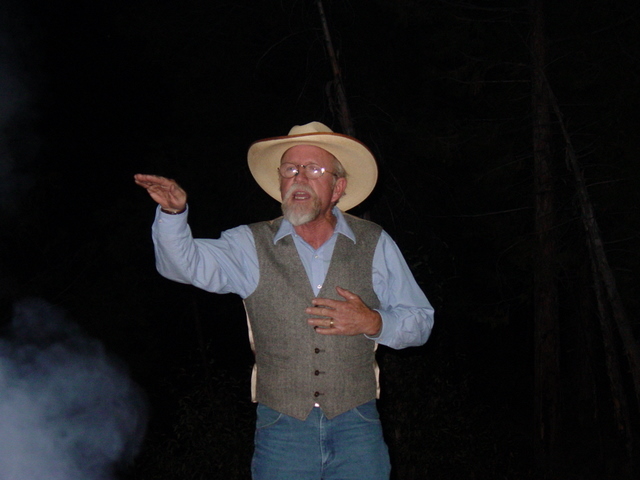 Madison Seamans by the campfire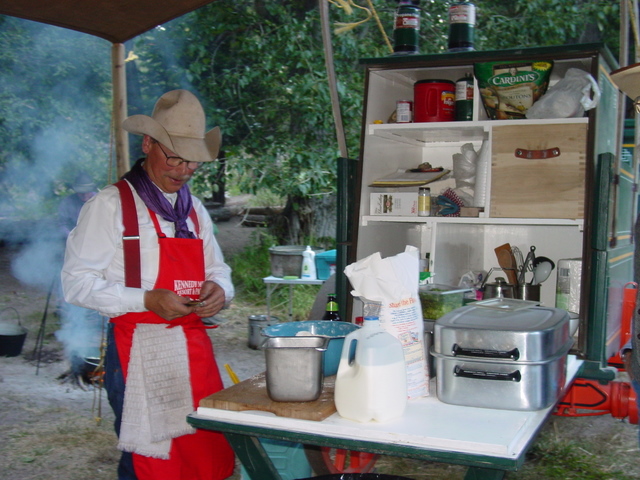 David Clark and his Chuck Wagon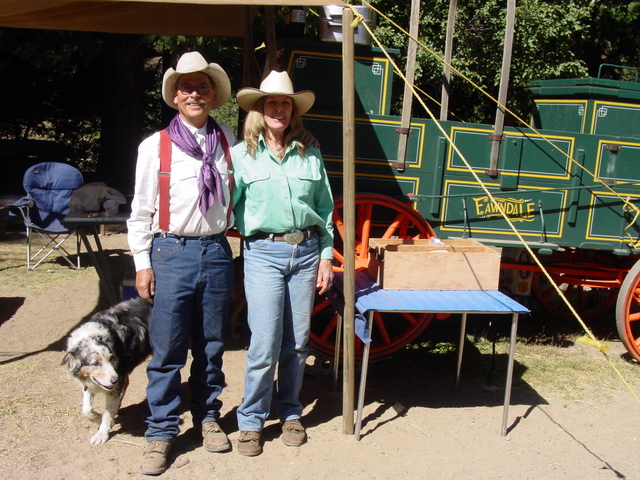 Wendy and David Clark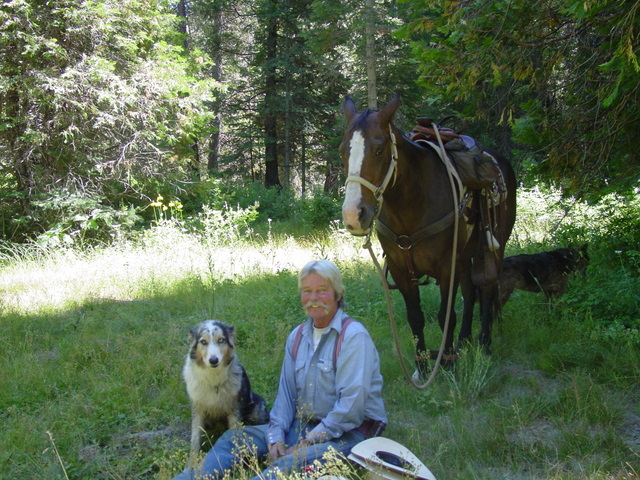 Kevin and Flash
We were invited to Kennedy Meadows to share some cowboy poetry around the campfire. David Clark owns and operates what is known as Wolf Bait Catering and Chuck Wagon Adventures. Clark launched his new enterprise after restoring an authentic 100-year-old-plus chuck wagon that he discovered at an equipment auction in 2009. The restored wagon is now pulled by a team of Clark's Belgian horses that he brought from Arkansas.
We were treated to an authentic Dutch oven dinner consisting of chuck wagon stew, Charro beans, drop biscuits, salad, and peach cobbler. Madison Seamans and myself entertained the guests from the Kennedy Meadows Lodge around the campfire after dinner. There were about thirty folks of all ages and walks of life gathered around to get back to their roots and enjoy some down home country entertainment. Flash joined us while I recited his poem, which is a favorite of the younger set.
We camped out under the stars by the river, and were treated to more of Dave's great cooking in the morning. We brought the fresh ranch eggs and he made an excellent frittata Dutch oven style. Terry Emerson and Kristy Krause, a nice couple that came to the campfire the night before rode in horseback to join us for breakfast. They said how much they enjoyed the poetry, and that they were planning on coming off the mountain a day early so they could come to the Coulterville Gathering, and sure enough, they showed up. It's great people like these that make this cowboy poetry adventure so worthwhile. I watched longingly as they rode out of camp and up the trail.
Dave has big plans for the future. He will be offering his chuck wagon dinners and campfire entertainment every Saturday night from mid June through mid September. We are looking forward to joining him again next summer.



FISH CAMP RIDE
Kevin and I headed up the mountain in August to Fish Camp, which is located just outside Yosemite National Park, for an overnight campout. The weather was cooler and we enjoyed riding some interesting trails with lots of shade and water. It was good to sit around a campfire again with the dogs and horses .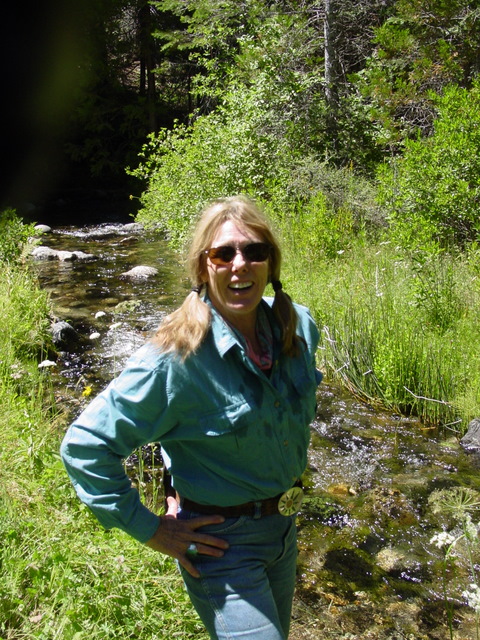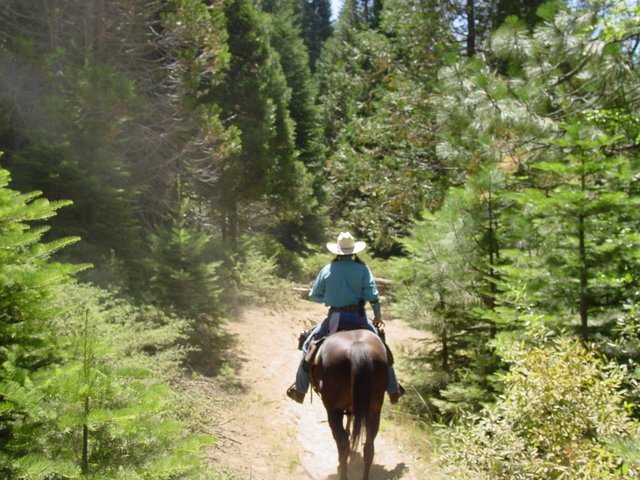 Wendy and Kevin's Pics from the Motherlode Ranch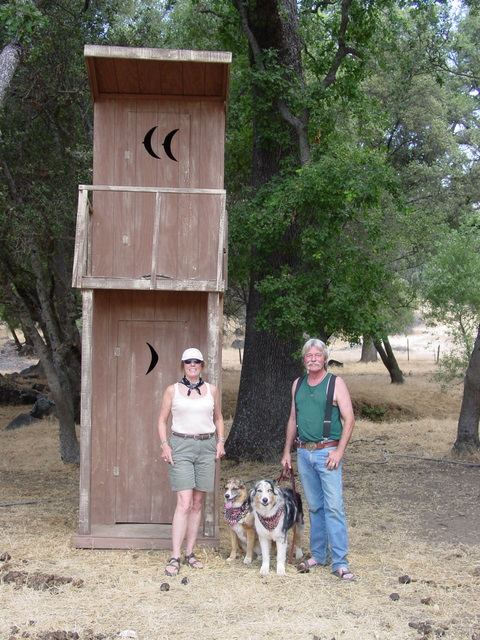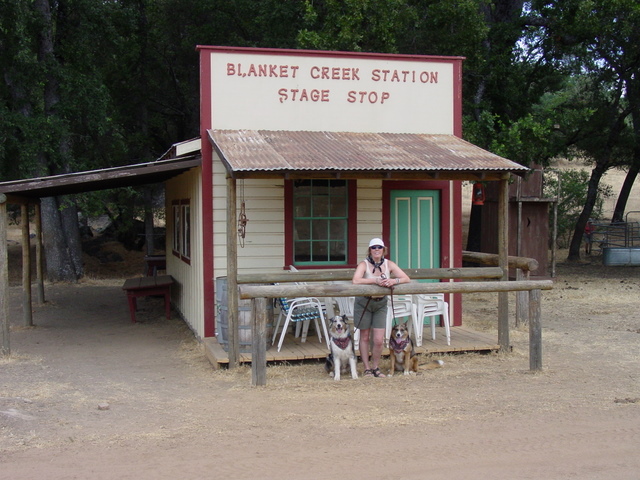 We just visited the Motherlode Ranch recently for Don Rumsey's birthday party.
Picture here are the Two-Story Outhouse and the Blanket Creek Stage Stop.

PHOTOS FROM MARIPOSA SUMMER CAMP SHOW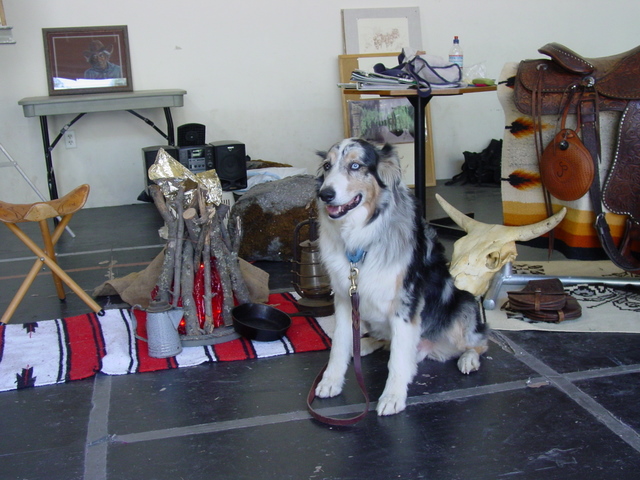 Here's Flash on the job at the Summer Camp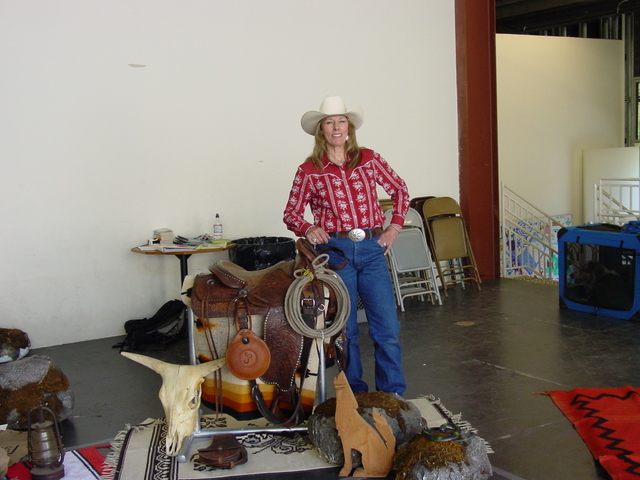 Wendy at the Summer Camp show
I worked with the Mariposa County Arts Council for their Summer Camp, which was held August 5th at the Mariposa Parks and Recreation Amphitheatre. Above are some photos from the show.
Please feel free to check out their website: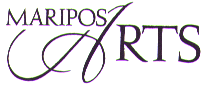 Mariposa County Arts Council

Here's more info:
Youth attending Summer Camp in Mariposa experience the excitement of discovering Cowboy Poetry! In partnership with the Mariposa County Arts Council, this year, Summer Camp will include a Western campfire setting and experience Cowboy Poetry by listening, writing, and illustrating original works of art. The Mariposa County Parks and Recreation program is a daily, fee-based program from July through August 12, 2010.
This summer, the Thursday morning art instruction includes Chinese Brush, Pen and Ink, Contour Drawing, Clay, Watercolor, Rock Painting, Light and Shade Chalk Drawing, Perspective Drawing, Pastels and Cowboy Poetry! For registration information contact Parks and Recreation at (209) 966-8390 or the Arts Council at (209) 966-3155.

Cannonball Cowboy Poetry Gathering
I performed on Saturday, June 12th, at this year's Cannonball Cowboy Poetry Gathering at the Mariposa County Fairgrounds
It went great- thanks to all who attended!
For more info...check out the Mariposa County Pioneer Wagon Train and Cannonball Cowboy Poetry Gathering website: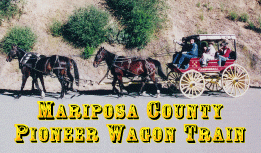 COULTERVILLE COWBOY POETRY GATHERING: GOOD TIMES FOR ALL!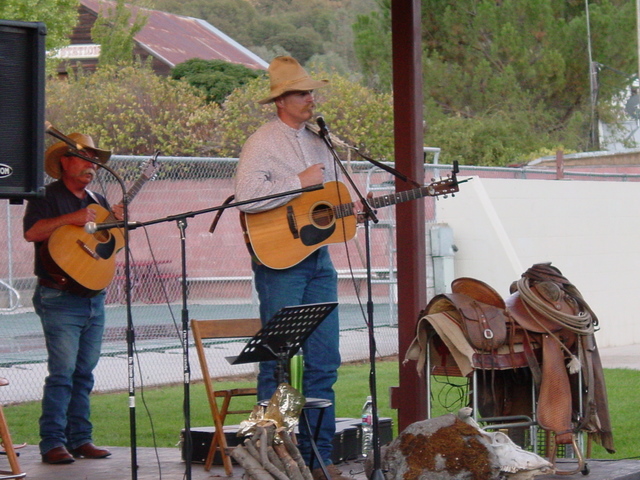 The Coulterville Cowboy Poetry Gathering on September 18th was a huge success, with over 200 people attending. We performed for over three hours, from 6:00 - 9:30 p.m.,and left them wanting more! Big Dan Routh, who we have performed with before, filled in at the last minute for Madison Seamans. Thanks Big Dan!
The Mariposa County Arts Council presented the event. They built a new little stage, with a Western-style front right behind the Jeffery Hotel..
Check out the Arts Council's website...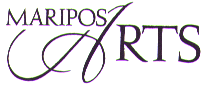 Mariposa Butterfly Festival - 2010
Thanks to everyone who caught my show at the Butterfly Festival this year!
I performed on Saturday, May 1st, at 4:30 p.m, at the "Katerpillar Kids" area... which is located in the 5th Street Parking Lot....check out the Festival's website:
The Butterfly Festival takes place in beautiful downtown Mariposa, an authentic Gold Rush-era town. The festival is always held on the first full weekend in May. This year's will start on Friday, April 30th, go thru Saturday, May 1st (when I will be performing) and continue through Sunday, May 2nd.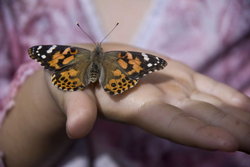 photograph: Charlie Phillips

Cowboy Poetry Week -April 18-24
"Cowboy poetry records the heartbeat of the real working West, in a tradition that spans three centuries. Ranchers, cowboys, and Western writers represent the voices of this vital- yet endangered- rural culture."
Look for the write-up this week in the Mariposa Gazette newspaper announcing my upcoming performance at the Butterfly Festival, and about the 9th Annual Cowboy Poetry Week, officially celebrated April 18th- April 24th.

Make sure that all of you check out all five of my NEW poems that I've just put up onto this website!
First, there's "Friends" a new poem that I just posted under the Special Poetry link...it was written for my good friend Marlene on the occaision of her Birthday...hope you'll enjoy it, too!
Also, I've put up one my most favorite poems (one my few "non-rhymers"), one that goes back a few years, called
"For Reno"- a tribute to my beloved mare Reno. It's posted in the Special Poetry section.
And...take a look at my three latest poems in the Poetry section! There's "The Round Tuit Ranch", a homage to our own home sweet home and to all those with a "honey-do" list..."The Keeper", which horse lovers everywhere are sure to identify with...and last, but not least, "Driving Me Crazy", in which the subject of that (frustrating) modern invention, the automobile, is taken head-on!
Also, read here my reports on my latest two poetry appearances...the first on New Year's Eve at the fabulous Mother Lode Ranch in Sonora, CA... the next was at a special Birthday party in Escalon, CA put on by my friends Bob and Sandra Magee.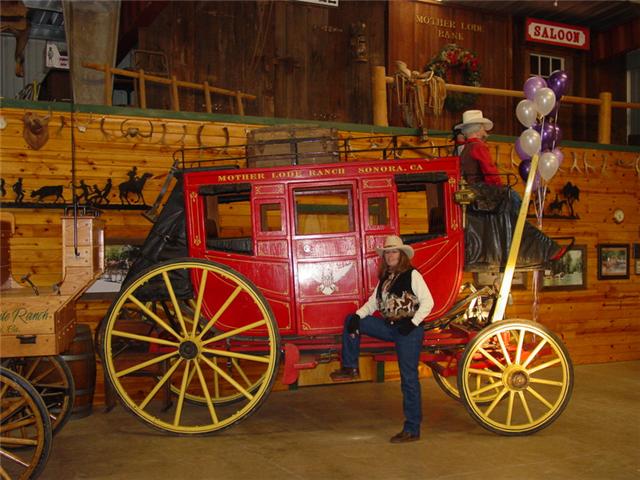 Wendy at the Motherlode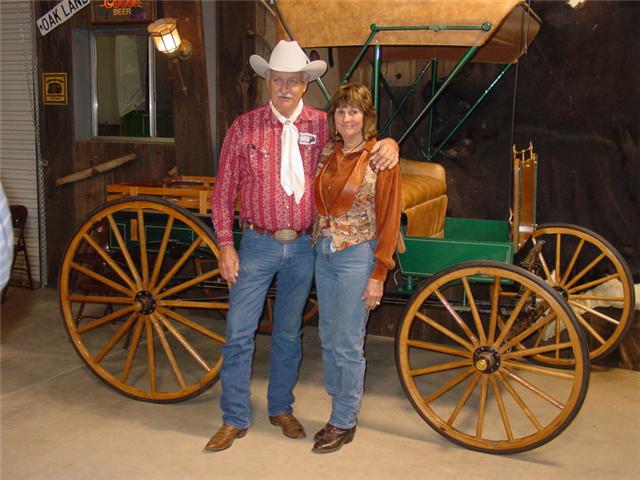 Don and Laurel Rumsey, propietors of the Mother Lode Ranch

New Year's Eve 2009
It was a beautiful day for a drive up Hwy. 49 to Sonora. We were invited to Don and Laurel Rumsey's Mother Lode Ranch to perform some cowboy poetry for a New Year's Eve Party.. (you can go to their website- motherlodewagons.com - or email them at motherloderanch@frontiernet.net for more info & directions).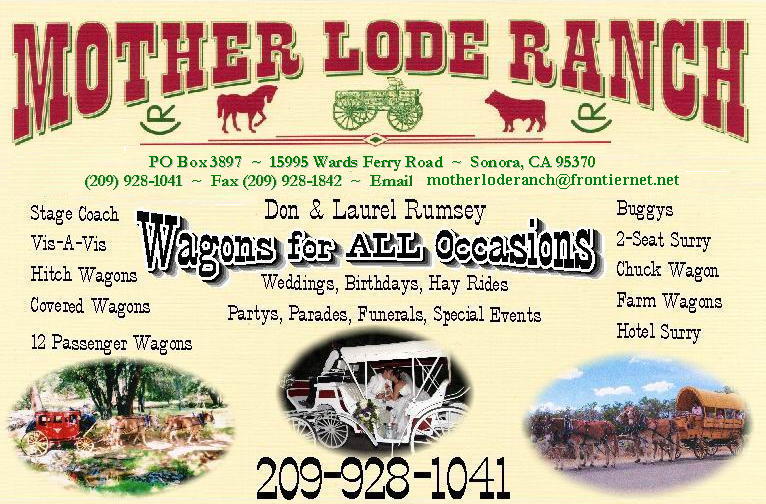 They provide wagons for all occasions, and had the most incredible collection we've ever seen. Their barn was decorated for the occasion, and we dined on the most delicious prime rib dinner we've ever had. Ricky Carter, Keith Keenom and the Chaparrals Band provided country music.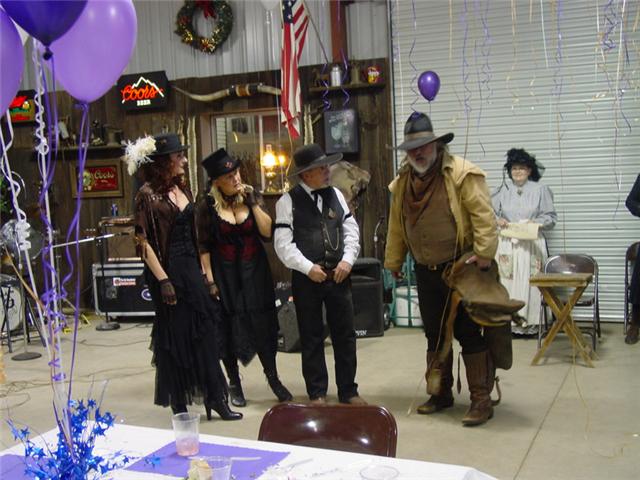 There was also a group that did western skits, and a gentleman dressed as Mark Twain that told stories. Sharon Power and I provided the cowboy poetry. We couldn't have asked for a nicer group of people or a more gracious audience. There were about a hundred people there to ring in the New Year. Kevin and I both agreed that it was one of the best New Year's we've ever had.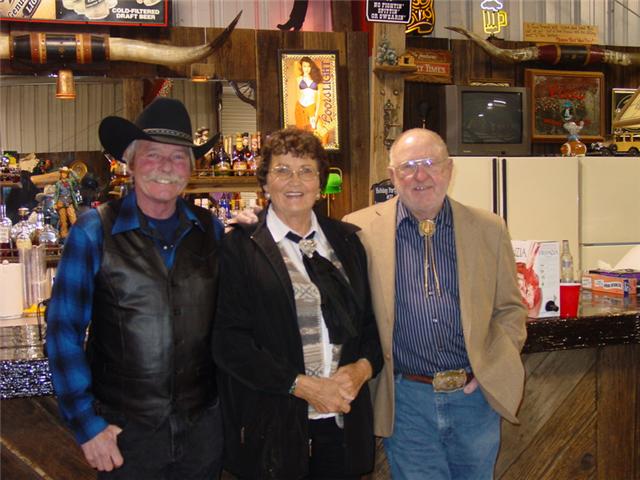 Kevin with Sharon and Glenn Power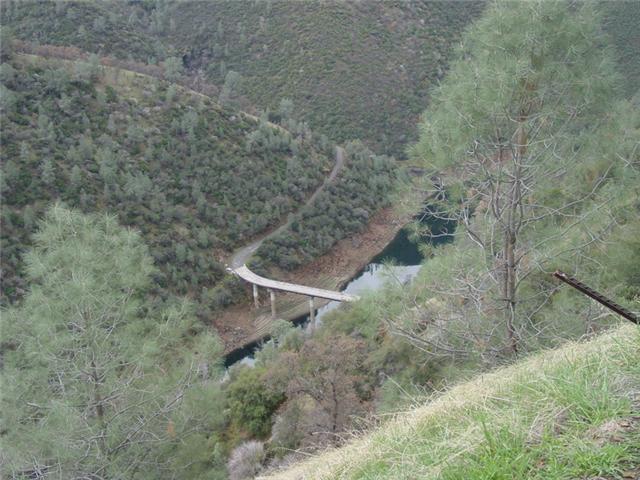 View from Ward's Ferry Road

The Rumsey's provided an RV for us to stay in, and the next morning we took Ward's Ferry Road home. It was little more than a paved cow trail, and scared us right into 2010. In places there was only enough room for the tires of our truck with a sheer drop to a river. However, it was very scenic. We had lunch at the Magnolia Saloon in Coulterville, and then back home. It was a great way to bring in the new decade!

"You can bet that I will spread the word on the cowboy poet that did a fantastic job for us. I talk about Wendy all of the time."- Bob Magee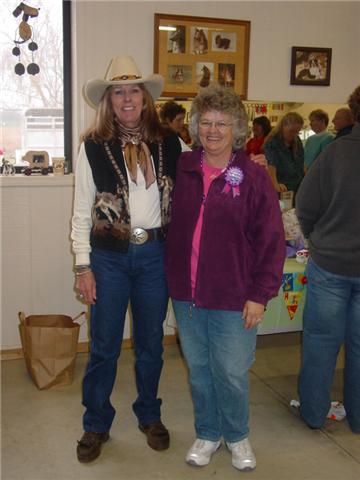 A Birthday Party in Escalon
On Saturday, January 9th 2010 we traveled to Escalon, CA for a 60th birthday party. I have to give my dog Flash credit for landing me this job. It turns out that Bob and Sandra Magee raise and show Australian Shepherds. They saw Flash and me on my web site and called for some cowboy poetry entertainment.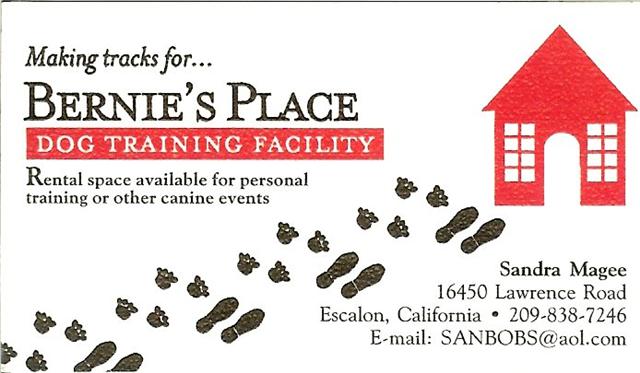 The party was held in their dog training facility called Bernie's Place. You can email them at: sanbobs@aol.com
We enjoyed a delicious catered luncheon. There were about thirty guests, and everyone enjoyed the cowboy poetry. They were all dog lovers, and many owned horses as well. So, we had lots in common and found much to talk about.
We are having so much fun travelling around meeting new people and promoting cowboy poetry. We hope to connect with these folks again, and are looking forward to the next gathering.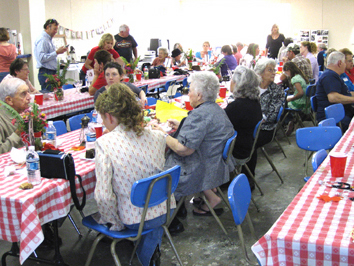 It was a good turn out, and we were happy to be part of it. My friend Madison Seamans joined me with his guitar and cowboy poetry. Madison is a Dr. of Equine Veterinary Medicine, and is also a talented western artist. My husband Kevin was in charge of the new P.A. system that we purchased for the occasion. I thank both my pards for a job well done!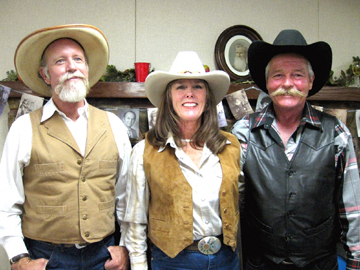 Madison Seamans, Wendy & Kevin at the Reunion

Thank you also to Ginny and Dave Harris, and everyone on the committee who helped organize the event. You did a fantastic job, and we enjoyed meeting your family, and making new friends. Till next time, HAPPY TRAILS!
For details and current updates, please go to the official Cathey-Westfall Reunion website at: www.dcwfamily.com

WE'RE BACK FROM THE 25th NATIONAL COWBOY POETRY GATHERING
IN ELKO, NEVADA!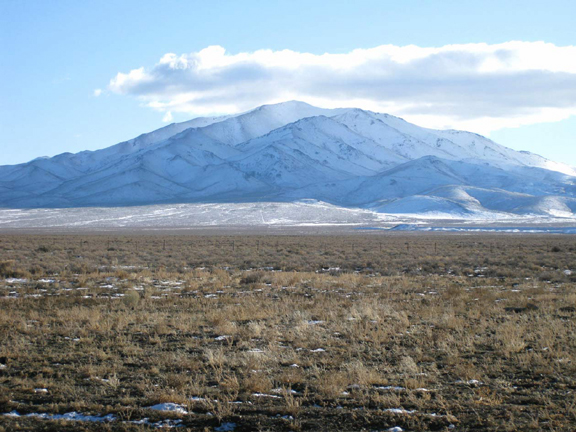 Battle Mountain
We arrived in Elko on Jan 28th after a smooth drive over the Sierras. We were concerned about the lack of snow up there this year. I'm sure it's improved with the arrival of recent storms as we've had several inches of snow here on the Round Tuit Ranch. We met up with some friends, the Mellos, from our neighborhood, and then were joined by two of their friends from Merced who came over on the train. We all saw some great shows, and got together for some delicious food.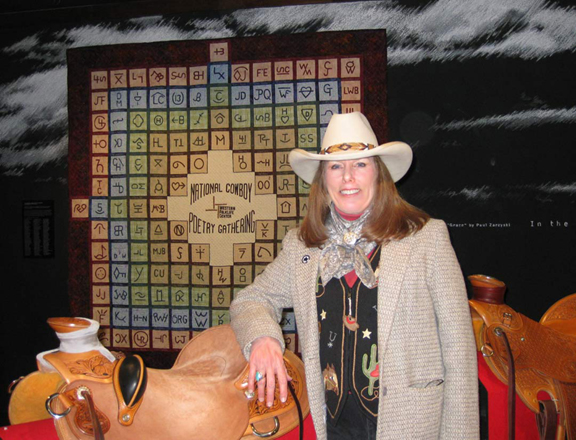 Wendy with Yvonne Hollenbeck's quilt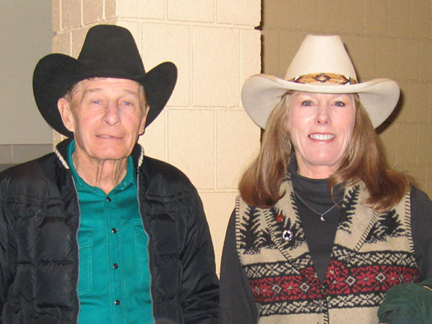 Wendy & Jess Howard

All of us got to see most of our favorite poets, including Pat Richardson, Baxter Black, and Jesse Smith. Pat's brother Jess Howard was there this year, and we enjoyed visiting with him and hearing him recite. There is always a wonderful exhibit at the Western Folklife Center. This year it featured a handmade quilt of all the poet's brands made by another one of my favorite cowboy poets, Yvonne Hollenbeck. There were also beautiful hand made bridles and saddles created in the old vaquero style. I added some new Will James books, and some more cowboy poetry to my collection.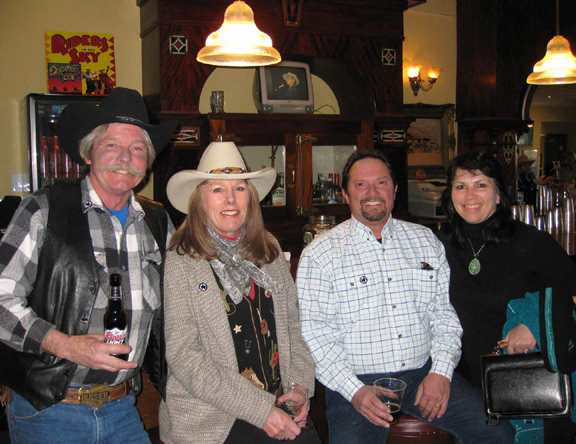 Our party finished up our last night at the Stockman's Casino for Michael Martin Murphy's concert. I can highly recommend his latest CD "Buckaroo Blue Grass." It was a great way to end up the Gathering.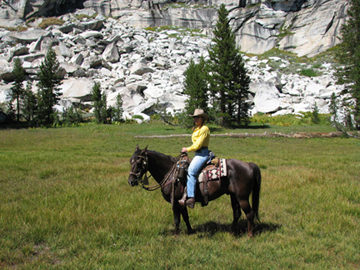 HIGH COUNTRY 2008
Our trip to the high country was the longest and best ever. We had nine days with the dogs and horses. We base-camped at Granite Creek again, and spent seven days up above 9,000 ft. in the Ansel Adams Wilderness.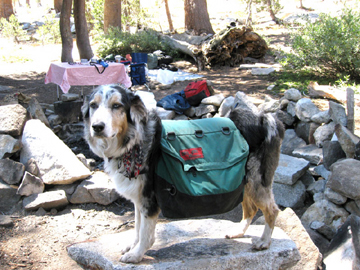 We had the Minarets Pack Station pack us in again this year. These folks really know what they're doing! They got all our gear, including, but not limited to: ice chests, a camp kitchen, and a hot shower, there without a hitch. We invested in a few more creature comforts this time, and really enjoyed them. One of my best memories is looking up through the skylight of my hot shower stall, and seeing the rain coming down, then slipping into my warm sleeping bag for a nap. How beautiful everything looked after the rain.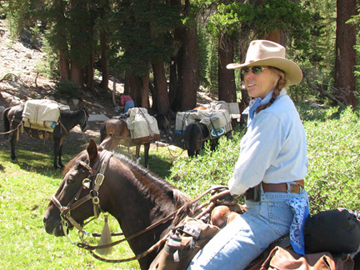 The first couple of days we spent at Sadler Lake. We wanted to visit Joe Crane Lake again after falling in love with it last year. So, we had the packers come back in and we moved camp. We probably wouldn't do that again, as it made for a very long day. But, it was all about exploration, and we're glad that we did it. Have a look at our latest pictures...-Wendy

WENDY PERFORMS WITH MADISON SEAMANS
AT CATHEY-WESTFALL FAMILY REUNION
On October 4th we entertained at the McKay Hall for the Big Four Family Reunion. The hall was nicely decorated for the festivities. There were lots of picture boards displaying the old homesteads and ancestors who settled the area. The Cathey, Deaver, Wills, and Westfall families were all there to reconnect and celebrate their family history. Many were wearing commemorative t-shirts made for the occasion. The logo on the back read, "A family without the knowledge of their past history and origin are like trees without roots."
WE'RE BACK FROM COLUMBIA, CA!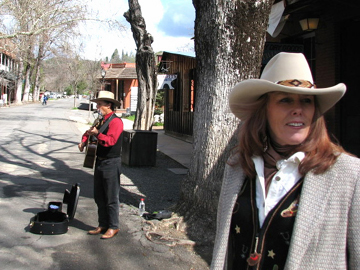 On March 14th we traveled up Hwy 49 to Columbia State Historic Park to attend the premiere of the "Golden Voices of the West" event. Columbia, once known as the "Gem of the Southern Mines", is a living Gold Rush town featuring the largest collection of Gold Rush-era brick buildings in California.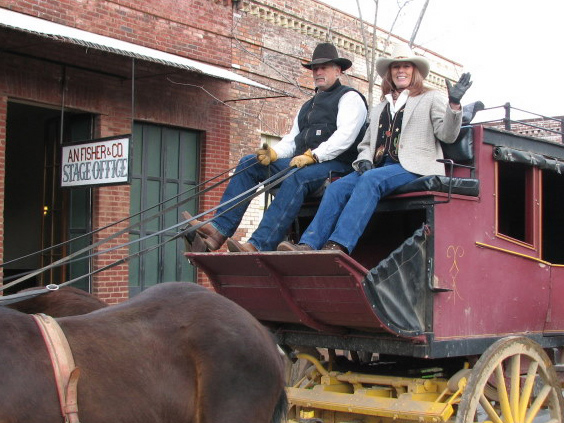 The event kicked off at the Sonora Opera Hall with a Dave Stamey concert. Dave is a buckaroo cowboy, singer, and songwriter. His music tells of his real life experiences as a working cowboy. We stayed in Columbia at the historic City Hotel, Est. 1856. Our balcony room was furnished with beautiful antiques and looked out over Main Street. We felt as if we had taken a step back in time!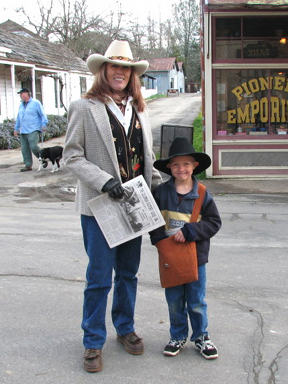 On Saturday we spent the morning walking through Columbia, taking in the sights and absorbing the local history. No motorized vehicles are allowed in town. We took a ride on the local stage coach, and were treated to seats up top with the driver, who shared more of Columbia's history with us. In the afternoon I attended a poetry writing workshop taught by my cowboy poet friend Pat Richardson. It was interesting and informative, and I came away inspired.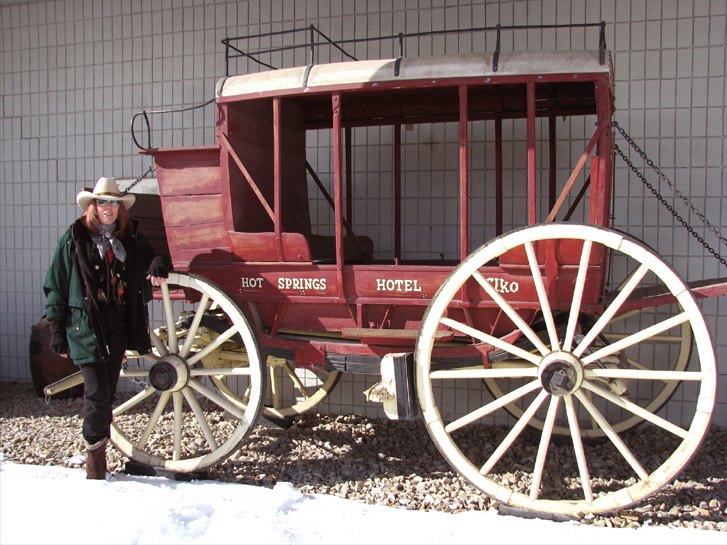 WENDY REPORTS FROM ELKO 2008
It was an exciting trip for us to Elko for the 24th Annual Cowboy Poetry Gathering! Instead of taking the train, this year we decided to drive. Our faithful dogs Flash and Foxy went along, and they were great company. We headed up Hwy. 80 to Reno with a snow storm right on our tail. It chased us all the way down the east side of the Sierras, and all the way to Elko the next day.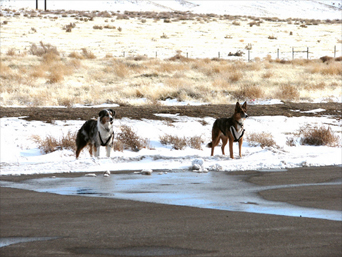 But the snow and cold weather didn't dampen any of the festivities at Elko. The camaraderie and down-home western hospitality kept everyone in great spirits! People make this pigrimage from all over the country to reconnect with old friends. It's like a huge familiy reunion. Over 4,000 people attended to hear some of the best cowboy poets in the nation. This year they celebrated the Sonoran cowboy or vaquero. We saw our old friend Pat Richardson, who has been a perennial invited guest to Elko for many years.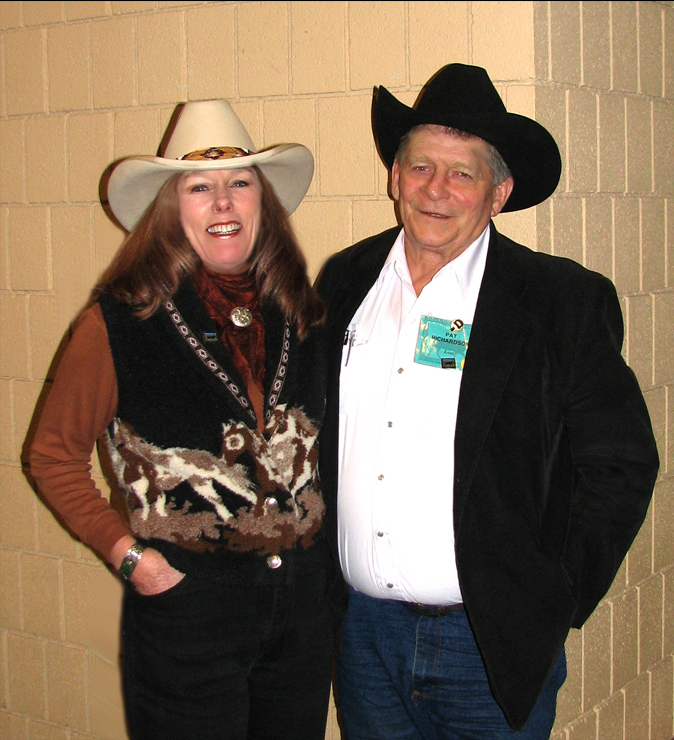 Pat Richardson & Wendy
We also got to see Baxter Black's special show. The tickets were distibuted lottery style, and we were two of the lucky winners! We laughed until our faces hurt. Another highlight was to see a local cowgirl from Catheys Valley perform. She comes from a fouth generation ranching family, and won several of the poetry contests that I sponsored for students in the schools. She demonstrated such talent that I invited her to be a performer at one of our gatherings. The Western Folklife Center in Elko heard about her, and invited her to perform this year. She just turned fourteen, and she did a fantastic job! It was wonderful to see her onstage with some big name poets.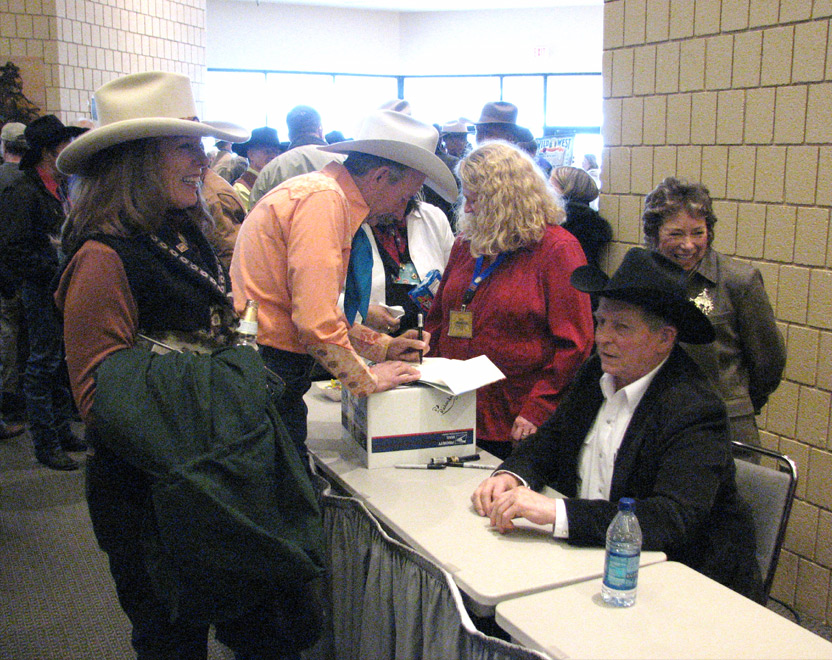 Baxter Black, Pat Richardson & Wendy at Elko
We also experienced our first Basque dining experience. Talk about comfort food...and plenty of it! We ended up staying an extra day because another snow storm was coming in, and we chased it back across the desert. We stayed in Carson City, then headed home over Hwy. 88 the next day. A good time was had by all, and we're looking forward to next year!
- Wendy & Kevin

Wendy also just recently performed for the California Backcountry Horsemen Free Packers Unit at their annual Christmas Party on December 8th. Their spokesman afterward had this to say: "Wendy Brown-Barry was our entertainment. Wendy is definitely someone you want to meet. She is a local gal from Mariposa who has been performing Cowboy Poetry since 1996. Her poetry is inspired by her adventures in the back country, so it is something we can all relate to. Thank you, Wendy!"